Your web browser is out of date. Update your browser for more security, speed and the best experience on this site.
A dozen stages in a handful of weeks, the life of a developer advocate
Just to be clear, I am not a developer advocate. But because of COVID I have been able to experience the life they lead. And it all passed in a blur. This is the story of that one crazy month.
How it all came to be

I speak at tech conferences from time to time. I have always loved sharing my experiences and connecting with new people. Conferences are the ultimate opportunity to do just that. You travel somewhere, you get to share a story on stage with a group of people with similar interests and you live in a bubble of new (and old) connections for a few days.
I try to limit these getaways to about 10 per year, and never too close to each other. But because of COVID, all the organizers targeted the same time window with their events. Some of these were already planned for this period, others got moved because of lockdown restrictions that rendered their original dates impossible. The result was a 4-week period during which I spent 20 days in other countries.


Stages 1 – 3: Porto
It's Tuesday morning and I'm on a train to Brussels airport. I'm going over the last few emails I need to take care of. The last few weeks had been hectic. I'm not nearly as prepared for the upcoming period as I'd like to be. But I've committed to things and the train is rolling.
In the afternoon, arriving at NDC Porto felt like coming home. The organizers were visually happy to be running an in-person event again. As any speaker will tell you, you usually run into some friends in the hotel lobby before you even make it to your hotel room. This time was no exception. We make dinner plans (Seafood, yay!), and I find a place to sit to work on Friday's slide deck. It's a new talk, and it's nowhere near finished.
Wednesday and Thursday go over very similarly. I hang around at the conference, catch a Scott Hanselman's keynote and work on my talk most of the time. I like the way it's shaping up. I'm a bit bummed out that I didn't see more talks but writing the story I am there to tell is the primary focus. On Wednesday night, there is the traditional NDC speaker dinner with food and drinks in one of Porto's wine houses.
Thursday night is the first time I go on stage. I tend to say yes to things, and that usually means I'm doing extra-curricular activities at most conferences. Tonight's activities are two-fold. First, we entertained the conference after party by doing improv presentations, guided by Lemon. After that, we played our first live gig of the season with Dylan Beattie & the Linebreakers. It felt great to be on stage again with these awesome people.
Friday is all about my talk. I fine-tuned the last couple of slides in the morning and gave my talk just before lunch time. In the afternoon, I finally had some time to go watch a talk and talk to some people. Dinner plans get made with a bunch of conference people before we all went our separate ways on Saturday. I flew home in the afternoon, getting to my place at night. Just in time to spend Sunday with the kids.


Stage 4: Chantilly
Monday morning through Wednesday lunch time is business as usual at the office. Although it was busier than usual, as we had a group training session and I was faced with a backlog of mails. But somewhere on Wednesday afternoon I manage to start on my sides for Friday's Haxx talk.
Haxx is our yearly internal conference at Axxes. It is a knowledge sharing fest. This year, we decided to go to Chantilly, France. 47 of our employees took the stage during a 5-track conference day. I'm scheduled for an inspirational 20-minute plenary talk just before lunch.
I question the current plan, thinking about sacrificing my Thursday plans to have more time to work on the slides. I decide to stick to the original plan. I work late in the evening to get to the point where I feel confident it'll get finished. I've got my story and I've made slide outlines. All I need to do tomorrow is finish it up.
It could go either way, but luckily, I was able to stick to plan A. I loaded my bike into the car, got to my colleague's place and he started driving towards Chantilly. I managed to finish the slides in the car on the way there (Thanks for driving, Kevin!). We got there by lunch time. A small group of us jumped on our mountain bikes and rode a 50km trail through the region. In the evening, the rest of our colleagues arrived, and a conference pre-party could begin.
Friday, conference day, went smoothly. It was packed with awesome content. I saw a few talks and was impressed with how well prepared they were. My own talk went well too. I was happy to talk about making life choices. As western European IT consultants, we lead a choice-rich life by default, yet we don't always make those choices consciously.
After the conference, it was time for the 'feel good' part of this company outing: Going to the horse track to place some bets, a nice evening dinner, a party and a fun day of games and activities on Saturday. I returned home late Saturday evening and again got to spend Sunday with the family.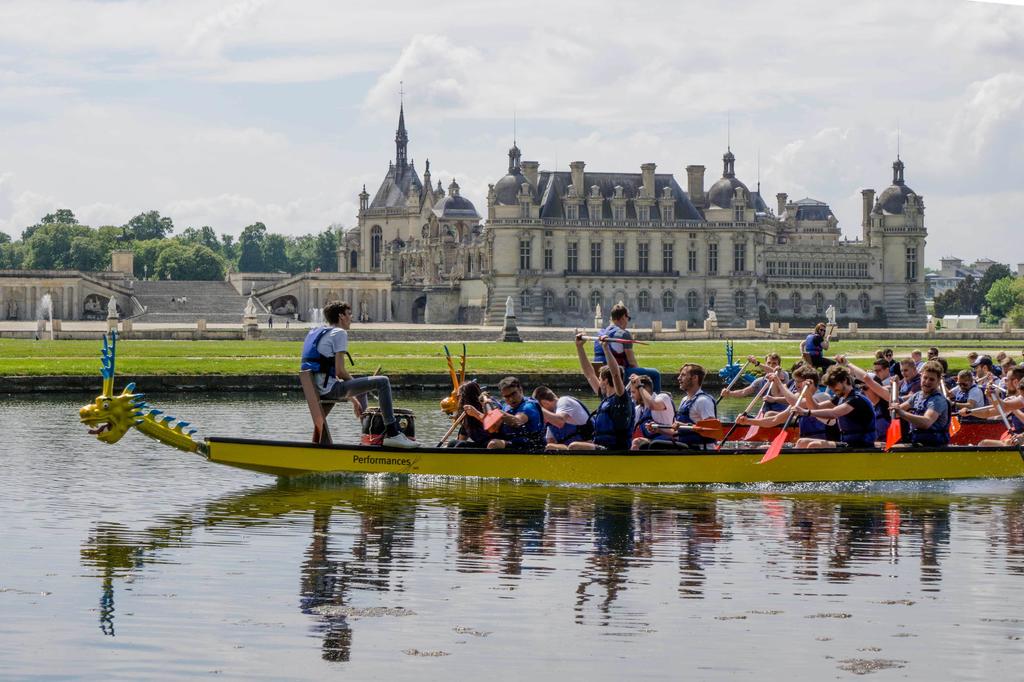 Stages 5 – 9: London
Monday morning, I hopped on a Eurostar to NDC London and what promised to become an action-packed week. I took the metro to Westminster and checked into the speaker hotel, grabbed my music gear from my luggage and headed over to the Queen Elizabeth II Centre. I met up with Dylan and the Linebreakers once more. This time, all 6 of us were present. The first show with the full band post-COVID. A proper band rehearsal was in order.
This first conference day was interrupted by a full evacuation of the entire block (not just our building) because of a bomb scare. They neutralized the suspicious vehicle and allowed us back inside.
In the evening, Eldert was kind enough to give me his spare ticket to go and see Tool at the O2 Arena with a few other speakers. I love progressive metal, and Tool did so much to kickstart this genre. They may all be around 60 years old, but the show was tight and immersive! I'm really happy I went to the show!
Tuesday morning, there was no time to spare. I headed over to CodeNode to have 2 interviews for GOTO. The first one was me, Dylan Beattie and Kevlin Henney talking about guitars and code. The second was Martin Twaites interviewing me about the history of .NET and how I experienced the evolution of the framework.
In the afternoon I played through a few more songs for the Linebreakers and in the evening, we played the conference afterparty. We had the opportunity to play for 2 hours and to introduce the audience to one of our new covers, "Smells like Kubernetes". I think you can guess what song that was based on.
On Wednesday, it was time for my conference talk. I got to speak about DDD and actors once again. In the morning I tweaked a few things that I felt could have been better when I gave the talk in Porto. Around lunch time I got on stage to give it. I felt the talk had gotten better with my tweaks, but as usual, I saw a few more opportunities to improve it still.
In the evening, we got a bunch of speakers together to head for dinner. BBQ, burgers, and a few rounds of "Exploding Kittens", during which Lemon's daughter conspired with me against her dad. Good times.
Thursday and Friday were workshop days at NDC. This gave me time to prepare for Friday's PubConf and to start work on next week's talk for the conference in Copenhagen.
PubConf, for those who haven't heard of it, is a comedy tech conference at the pub. Everyone gets 5 minutes, 20 slides that auto advance and no clicker. The mission is to extract the most laughs from the audience. It was a total blast to be doing this again. I was in the 'Brownfield' round. This meant I was not allowed to make my own slides, but rather had to write a funny story that goes with some slides provided by Todd. This was a lot harder than making my own deck, but I loved the challenge. I managed to win my round, but I felt that it was definitely a close call. All the speakers made it a fantastic event. Time for some celebrations at the cocktail bar!
On Saturday morning, I hopped on a Eurostar back home. Very early, and a little hung over. I could have taken a later train, but that would have meant that I would have missed the first family gathering since COVID. I managed to make it home on time to show up for coffee and dessert.
Sunday was gorgeous weather, and we spent it in the pool with the kids. I got a bit (a lot) sunburned, but it was so nice to have this time together.


Stages 10 & 11: Copenhagen & Stockholm
After a hectic day at the office on Monday, evening came and it's time to roll out again. A quick dinner with the kids and off to the airport once more, this time flying to Copenhagen. I used to live there for a year after college and I think I left a piece of my heart there. It always feels like my second home. Due to a plane delay and some metro problems, I made it to the hotel quite late. I had a quick drink with Eldert and went to bed.
Tuesday was the first ever DevDay Denmark. I feel privileged to have been asked to be part of this line-up. But again, instead of watching talks, I needed to make sure that my story was finished. I had about 70% of a slide deck before I entered the Microsoft office that day. Luckily, I didn't go on stage until 15:55, so there was time.
This is a talk I've wanted to give for a long time: about building guitars and the similarities to building software. I finished my slides just after lunch. This gave me a little time to go over the story again, weed out some typo's and relax before I needed to be on stage.
The talk went well, and people seemed to enjoy it. I did manage to spot some things that need improving for next time. No talk is ever the same.
When I'm done with my talk, the beers have arrived. I grab one and watch Scott Hunter close the day with some nice previews of MS Build. Some stuff hasn't been officially announced yet. Turns out he gets chatty and excited about new stuff too. I feel like I can relax now. The Thursday talk is the one from Porto and London again. No more new slide decks to make.
In the evening, the speakers are treated to a nice restaurant by the organizers. It's a lovely evening and it's still surreal to share a table with these people. How often do you have dinner with a Microsoft VP, one of the .NET Rocks stars and an AI/ML thought leader?
Around noon the next day, the whole group gets on a train towards Stockholm. More than 5 hours through the Swedish scenery. Lakes, forests, solitary houses, and small towns. It is lovely.
When we arrive, we are greeted in the lobby by familiar faces again. The DevSum speakers are all in the same hotel. As per usual, we make dinner plans and have a few drinks as we prepare for the conference on Thursday and Friday.
On Thursday, my talk is just after lunch. I use the morning to adapt the slides and the order a little more, hoping to improve on London's version of it. When I stand in room 307, I feel like it clicked this time. The gaps have been filled, the story flows, and the timing was spot on. Nice! I still spot a few slides that can be more visual for the next time, but this one now goes into 'polishing mode'.
I thought I was done with the last talk of this hectic month. We celebrate by having an attendee party and going out to a pub with some speakers that evening. It gets late. I sleep in in the morning, and head to the venue to watch a few talks and talk to some people. In the evening, there is a speaker dinner at the ABBA museum. We get a lovely talk by their costume designer and are once more provided with fantastic food and ditto company. On the way back to the hotel, the bus driver rammed a tree. Half of the top floor windows were broken, yet he didn't stop until we reached our destination. That was surreal.
In the morning, I walk into the old town to find some souvenirs for the kids. We have lunch with the speakers and crew a last time. Shrimp and Swedish meatballs! I hop on a train to the airport, and I fly home through Munich. I'm sitting in Stockholm's airport writing the better part of this story, waiting to board my flight.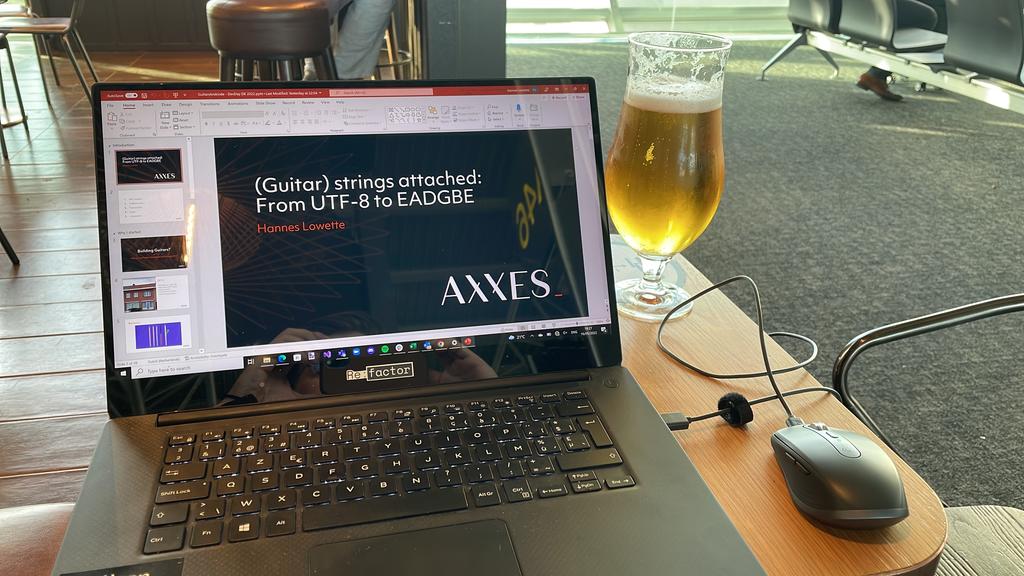 Stage 12: Antwerp
After getting home, I got back to the office on Monday. Since it was Techorama week, a lot of my speaker friends were in town. I took it upon myself to take a bunch of them out to dinner the night before the conference. It was once again a fantastic dinner with great people from all over the world.
Axxes is a title sponsor for Techorama, and for once, I did not have to give a talk. My plan was to just be at the conference, talk to people and finally watch a few talks. No pressure. It was glorious. The first conference day was very laid back.
But on the morning of the second day, I got a phone call as I was about to leave the house. A speaker had dropped out and they were looking for a replacement. And obviously, I couldn't pass on this opportunity. By the time I arrived at the venue, I had a talk lined up for the afternoon. Time to brush off the talk I had already given 3 times the past four weeks. Instead of watching talks, I sat in the speaker room, and polished my story a bit more.
I did watch my colleague Rob's talk in the morning though. He is one of my Axxes colleagues who loves sharing his knowledge too. I loved his story and couldn't help but wonder how great it is that we are growing our speaker family at Axxes.
Just after lunch I got on stage to do my talk. I was surprised to see so many people for a talk that hadn't been on the agenda until that morning. It went great. I think it was the best rendition of this talk yet. I'm starting to get into the story more and more. I think this will do great at the fall conferences.
In the evening, I got home with a very welcome 4-day weekend ahead of me.


Conclusion
I can't wait for life to return to normal, at least for a bit. I have seen very little of my family, and there is a ton of work waiting at Axxes. I am exhausted and fulfilled at the same time.
Don't get me wrong, I loved every minute of the past month. I've seen old friends, met amazing new people, and was able to tell a lot of stories on all the stages I have been on. But doing public speaking at this pace is not for me. I have renewed respect for all the developer advocates who live their lives like this. I've learned my lesson and I'm going to try to spread them out again in the future.
One thing is certain though. Monday's post-conference blues is going to hit me hard. And I'm sure that's when I'll start looking forward to the next one…